Once your offer is live, you need to take steps to divert traffic towards your cloud marketplace listing.
Here are 4 ways you can do that which are a blend of utilizing your existing marketing channels and leveraging marketplace marketing rewards.
Let's get right to it. 
Integrate it into your traditional sales strategy
Your organization can only get the best out of the marketplace channel if your sales and partner alliance teams work cohesively.  
Incentivize your sales team to direct existing and incoming customers to the listing. Create a route which will empower them to do so. The best way is to recalibrate your conventional sales strategy to suit digital selling.  
Inform your customers of the opportunity to leverage their committed cloud spend to buy your solution. Not only will this help you retain customers, but will also strengthens customer relationships and invariably drive customers to your cloud marketplace listing.  
Organic Marketing
for cloud marketplace listing
Your marketing team can integrate your marketplace listing in their organic marketing strategies to divert traffic towards it in a very natural way.  
Here are some of the methodologies our customers have been employing to attract customers to the cloud marketplace listing. 
1) Announce your marketplace listing 
Once your offer is live on the marketplace, publish about it on your company social channels like LinkedIn, Twitter, Facebook and on your website as a celebratory post.  This will help you drive traffic to your cloud marketplace listing. 
You can also highlight why you've chosen to list your offerings on the marketplace and how customers will be able to procure your solutions effortlessly.  
Apart from posts on your company social media, you can also urge your employees and team members to share posts from their social handles. It is an effective way to spread the word that you're now selling on marketplaces as well and drive customers to the cloud marketplace listing.  
2) Leverage Press Releases
Getting your listing published in the press can garner tons of attention to your product. Talk about why you chose to get listed on the marketplace in the first place, how you plan to help existing and new customers streamline their buying journey and support them throughout it.  
3) Implement Email Marketing 
If you have an email/subscriber list, you can use that to promote your cloud marketplace listing. Craft an email spotlighting your marketplace listing and send it across to people in your list.  
In addition, you can prepare a series of 3 to 4 emails that highlight the details of your marketplace listing, especially in what ways it could benefit your customers.  
4) Get backlinks to your listing
There are tons of tech websites that publish guest posts, not only is this a good way to place your organization as a thought leader but also to advertise your product. Every blog provides backlinks to your website, which will efficiently promote your listing.  
Blog posts should be such that other people can derive value out of them, this increases your chances of getting discovered and connecting with more people and leads.  
Add links to your own blogs

 
Get SEO to work for you. Attach call-to-actions to your blogs which direct readers directly to your marketplace listing.  
Gain traction by adding link(s) to your listing(s) on review sites like G2, SaaSGenius, Capterra, DiscoverCloud and others.  
5) Content Strategy
Use content to promote your product as a supplementary to popular cloud services. Ideate and distribute content that positions your solution(s) in such a way that it would incentivize users of cloud services to consider buying your solution.  
Suppose you have a data security services solution. You can strategically create content highlighting how your product complements top data cataloging and warehousing services.  
Paid Marketing
If you already have an advertising campaign running, you can coalesce your marketplace listing in the campaign and lead prospects directly to your offer.  
PPC campaigns on Google, LinkedIn, Twitter and other social/SERP channels are a great strategy to target the right customers and drive 'quality' traffic to your marketplace listing. 
Partnership Marketing
Transactable offers (immediately deployable offers) get a variety of marketplace marketing rewards and benefits. Co-selling with marketplaces can skyrocket your listing visibility and get you valuable leads that easily convert into customers.   
Co-selling channels: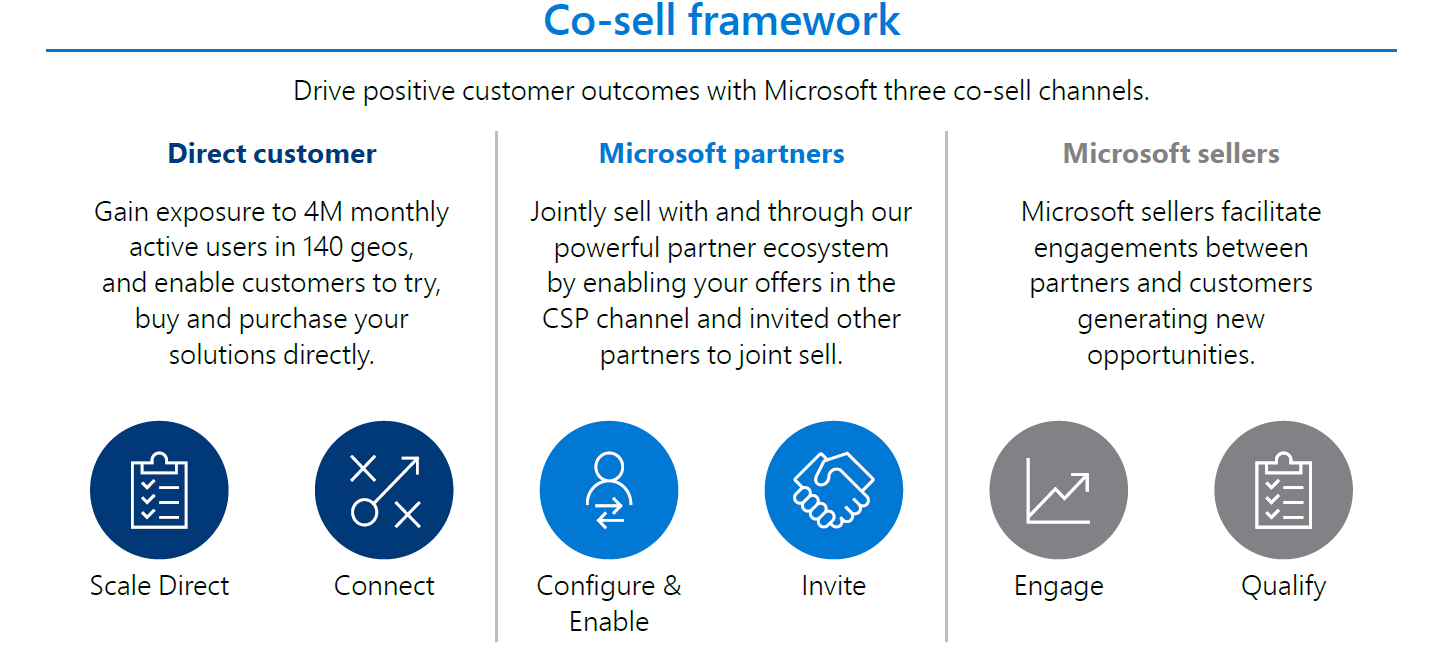 Benefits of co-selling:  
Sales planning support and lead sharing

 

Partner-to-partner selling 

 

Accelerated sales cycle

 

Better customer relationships & outcomes

 

Leverage private deals

 
Marketplaces also offers tons of rewards once your solutions surpasses a threshold of number of seat sold/subscriptions sold.  
Marketing rewards for transact offers include:  

Guidance on listing your offer as a co-sell solution

 

Get your solution featured at the top of the Azure Portal. Promotion at its best!

 

Get Azure sponsorship for building PoC for solution development. Accelerate product enhancements and build new solutions. 

 

Host webinars in collaboration with Microsoft and get the opportunity to promote your product.

 

Get spotlighted to the Microsoft sales team and collaborate with them to co-sell your solution. Sales team will be incentivized to pitch your offer/solutions to solve the problems of existing customers.

 

They can also set lead sharing in motion can only prove to be win-win for both teams!

 
If you intend to start leveraging marketplaces as a go-to-market channel, SaaSify is here to do the heavy lifting for you. No engineering efforts on your part. Our solution is pre-integrated into cloud marketplaces which helps you to start selling within a week. 
Easy customer management, smooth private offer creation and selling, connectors to help you track your growth and get leads – in a cost-effective manner.